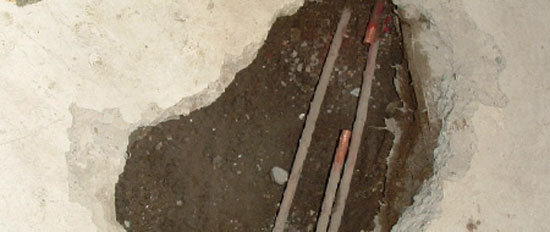 Slab leak is one of the worst things that could happen in your home. Water leaking under the concrete slab of your foundation can cause a lot of damage to the foundation of the house if it's not repaired. You can determine the presence of a slab leak if you notice any of the following signs.

• Wet base boards
• Wet carpet
• Hear the sound of running water
• High water bill
• Seeping water below the water heater
• Feeling warm spots on the flooring

If you determine that you need slab repair, call Pardo & Son today. We are a fully licensed and insured plumbing company in Orlando that specializes in slab leak repairs by finding it with pin point percision. We use state ot the art leak detection equipment. Find the leak and Fix it wright the first time! We also work with your insurance company to bring your house back in order.

Slab leaks occur due to damaged copper tubing that are installed in concrete when concrete is poured for foundation during the building process. Water leak begin springing up from the tubing in the concrete foundation. This will eventually weaken the foundation of any building if not detected and fixed in a timely manner.


One advantage of using Pardo & Son is that we offer our customers several options to choose from when repairing a slab leak, and we will always recommend the best option that will bring lasting results. Depending on the severity of the leak , we will either recommend Leak Repair, Pipe Re-Routing, or complete Re-Piping.
Pardo & Sons Plumbing, Your Orlando Leak Detection Specialist