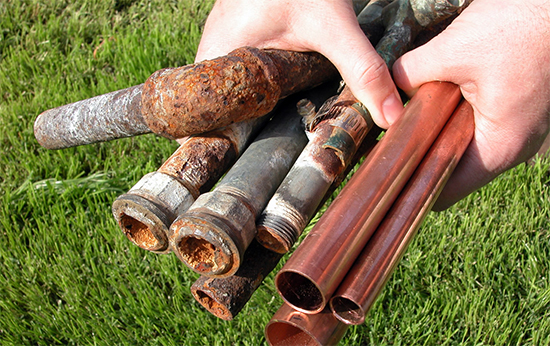 Are you experiencing low water pressure or rusty, off-color water from your faucets and shower? It's a good chance you could have leaking or corroding pipes in your home.
Here at Pardo & Son Plumbing, we have the knowledge and experience to determine right away if a repipe job is needed. These are common problems associated with degrading pipes and may require a full pipe replacement. Repiping is a large and complex project and should only be left to a licensed plumber with plenty of repiping experience.
Many homes in the Orlando area were originally piped using copper pipe. Because of hard water here in Orlando, the copper pipe will degrade and break down over time. This can cause leaks, scaling, decreased water pressure and rust colored water. Hidden leaks can cause troublesome problems in your and under your home. That's why we can fix your leak or have the option to repipe your house.
Being proactive is important and catching leaks and warning signs early can save thousands of dollars in repair fees later on. Repiping in Orlando homes is becoming a common project and choosing the right plumber for the job is as important as selecting a trustworthy mechanic for your car.
Tips for choosing the right plumber for your Orlando repipe
• Orlando is a very transient area. Select a repipe plumber who is established in the Orlando and surrounding cities.
• Repiping is a large project. You need a licensed and insured plumber to handle a job as complex as a repipe project.
• Read reviews! Make sure the repiping company you choose is reputable and will be there for you.
• Make sure to find a plumber that stands behind their repipe work. We offer a 20 year warranty on our repipe jobs.
Because we specialize in repiping we have an advantage over your typical service plumber in skills, price, and warranty.
Here at Pardo & Son Plumbing we have over 4000 whole home repipes under our belt and we'd like to add yours!
We here at Pardo & Son Plumbing pride ourselves on professionalism and honesty. We will come out to your home and discuss your Orlando-Repiping options with you. We always give you a free estimate before any work is done. We understand that a repiping job can be disruptive to your life! We will do everything we can to work quickly and professionally and let you get back to your life as soon as possible. While we are working, we will treat your home like it is our own. We will be as efficient as possible and minimize any drywall damage. Any damage that occurs will be fixed completely the next day in most circumstances. We will do the work swiftly and carefully, in as little as just a few days. Your time is valuable and your money is hard-earned; don't waste either!
We're your home repipe experts in Orlando!
Give John a call and add your name to the list of our satisfied customers.
Call us at 407-872-7755 and find out how we can help you today. We proudly serve Orlando in Central Florida and its surrounding areas.
The Pardo & Son Plumbing Promise: We will meet or beat any written repipe estimate from a Florida licensed plumber by 10%. Our repipes start at $1,450.00 with a 20 Year Warranty.
We're the best in the Orlando area–just ask our customers!